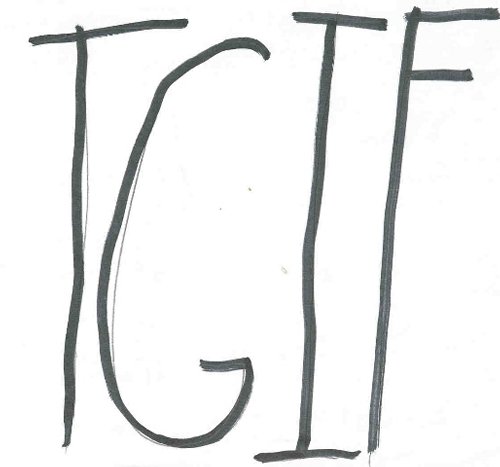 Depuis le dernier billet de ce genre, je suis allé au Agile Tour Montréal à la fin octobre et je travaille également sur un projet dont je devrais vous reparler d'ici peu de temps. Ce sera sans doute le dernier billet ITGIF de l'année et je dois mentionner que je tente de trouver un moyen de poster mes listes de liens plus fréquemment sans diluer le reste du contenu de mon blog. Pour 2012, il faudrait que je mette finalement mon plan à exécution et poster les billets ITGIF hebdomadairement, pour vrai.
Semaine du 28 novembre au 2 décembre 2011
Measuring Agile Investments – Quality
Reducing Schedule Risks: Feature Branches
Building Effective Teams: Miss the Start, Miss the End
Unit testing : Asserting that a line was logged by Logback
Making Eclipse Fly
Google Guava – Futures
Two Generally Useful Guava Annotations
Stupid performance trick in Java
Guava's Strings Class
Advanced Junit & Mockito
Java Best Practice Quotes
Hot tips on using Eclipse effectively
Useful WordPress Tricks to be Like a Pro
Eclipse IDE Keyboard Shortcuts for Developers
Code Review Checklist and Best practices in Java
How I Became a Programmer
Setting the Record Straight on GWT
Java Interview: Coding Questions and Answers
Agile Managers Don't Need to Establish Pecking Orders
What are some popular myths in software development?
Smooth CoffeeScript
Google Introduces A New Language to Replace English
How I Became A Programmer (And Why It Might Have Been The Wrong Choice)
Understanding the Vertical Slice
Principles for Creating Maintainable and Evolvable Tests
Semaine du 14 au 18 novembre 2011
It is not about Sprint Zero; Think Sprint-N
Testing GWT Apps with Selenium or WebDriver
Apache Maven 3 Cookbook
Simple Image Placeholder Service
Learn to Code with Codecademy
GWT and Dart
Characteristics of successful developers
The Boiling Frog
WordPress Essentials: Interacting With The WordPress Database
Forget the Plugins, Try These WordPress Hacks
Productivity and negative space
Pragmatic Thinking: Novice vs Expert
You're Pricing It Wrong: Software Pricing Demystified
Developers, abandon your headphones when in the office
Five Reasons Every Company Should Act Like a Software Startup
Advanced Layout Templates In WordPress' Content Editor
Continuously Improving as a Developer
10 Examples of HotSpot JVM Options in Java
Software Testing is Dead
Semaine du 7 au 11 novembre 2011
Supporting Team-Based Work
GWT and Dart
How Mature Is Your Continuous Integration?
Improve Your Java Development Efficiency with Modelio and UML
Dealing with technical debt
10 Things To Do After Installing WordPress On Your Website
Google Web Toolkit and Web Services: The XML Way
People Should Listen to Computer Programmers about Software Patents
Guava's Strings Class
The Number One Trait of a Great Developer
Linus Torvalds: Software and Process Patents Don't Make Sense
You're A Developer, So Why Do You Work For Someone Else?
Semaine du 31 octobre au 4 novembre 2011
A trick for motivating people
Coaching story : Gérer des feux, ça fonctionne seulement à petite échelle
La qualité… classe affaire ou économie?
Automated Java Deployments With RPM
Autowiring Property Values into Spring Beans
OpportunisticRefactoring
Maintaining Separation of Concerns when using a JSP Front Strategy MVC Pattern
Recommendation Engine Models
There's more to Managing Software Debt
Testing GWT Apps with Selenium or WebDriver
Log4j, Stat4j, SMTPAppender Integration – Aggregating Error Logs to Send Email When Too Many
Spring Singleton, Request, Session Beans and Thread Safety
GWT – Common Problems with Solutions
How Much to Charge as A Freelance Computer Programmer
6 Signs That Your Organization Is Not Ready for Agile
Think Like (a) Git
40 Hour Work Weeks Suck
Don't Tell Me Someone Failed Web Programming 101 Again
5 pro tips for aspiring conference presenters
List of freely available programming books
I am a programmer
Introduction to Hibernate framework
Semaine du 24 au 28 octobre 2011
Peck, peck, peck
Estimation – Bad Advice
Top 5 des meilleures façons d'améliorer votre code
ScriptCover makes Javascript coverage analysis easy
How much architecture is enough?
Unit Testing Spring with Mockito & PowerMock
Why Use PowerMock to Mock Private Methods?
Never Mix Public and Private Unit Tests!
Testing an Object's Internal State with PowerMock
Getting started with Selenium 2
Great code is written twice (or more)
10+ .htaccess snippets to optimize your website
Developers Need To Keep Challenging Themselves
Why Your Daily Standup Sucks (and how to fix it)
Compare RIA frameworks
Seven reasons your coworkers don't trust your
Semaine du 17 au 21 octobre 2011
150 Minutes of Power
Passer à l'action
Mon projet dérape. Rien n'est perdu, mais il faut agir… maintenant! – Partie 1
Google JS Test, now in Open Source
Programmers are f***ing lazy
Automation: You're Doing it Wrong
How to Get Unstuck
Recording test performance with Jenkins
Multimaps – Google Guava
Even Backlogs Need Grooming
Semaine du 10 au 14 octobre 2011
Agile Outside of Software
Integrating Maven with Ivy
Java Twitter client with Twitter4j
Scrum Team in Waterfall Land! What to do?
Refactoring de tests
Using PowerMock to Mock Static Methods
Getters and Setters Are Not Evil
I'm a Developer. I Understand…
If I had more time I would have written less code
Sending emails with Java
That Job Sucked, But You'll Never Tell
Dennis Ritchie, co-creator of Unix and C
How to Build A WordPress Theme From Scratch Part One
A Quick Reference to the Spring 3 DI Bean Configuration
Be a Better Java Programmer: A Reading List by Binu John
Why Google Web Toolkit Rots Your Brain
Agile planning: Your estimates sucked
The 1971 article that inspired Steve Jobs
Rank Technical Debt in a Backlog
Semaine du 3 au 7 octobre 2011
Exercise:: Definition of Done
What's happening on your site right now?
Work smarter, not harder, with site health
Google Montreal announces HTML5 hackathon
What the IT department will look like in 2015
Open source is the backbone for Startups
Adding machine learning to a webapp
Best Practices for Scaling Java Applications with Distributed Caching
Developers Must Feel the Pain of Operations
Agile in the Age of Hyperspecialization
The Goal of software development
Useful WordPress Code Snippets and Hacks
4 CSS Tricks That You Should Know
Oracle: Java 8 will be revolution, not evolution
HTML5: Getting Caught Up In The Semantic Spiral
Tips, Tricks and Tools You Will Need to Start Using HTML5 Today
« Java Life » Music Video
Why code review beats testing: evidence from decades of programming research
Are Modern Programmers Just Bug Fixers?
Java Productivity Report 2011: India vs Rest of World
How to easily create charts using jQuery and HTML5
Web Usability Testing Tools For Your User Experience
Why developers should learn the economics of code
A Productivity Comparison of Kanban and Scrum